Clinical psychologist and Wellspring at Structure House therapist, Katie Rickel, writes a blog on the Doctor Oz website every now and then on varying topics. When we saw her latest topic, about the behavioral benefits from making sure you eat breakfast each day, we knew we wanted to spread the word about her super easy recipe for breakfast oatmeal. You can check out all of Katie's reasons why making time for breakfast is a critical habit for maintaining a healthy weight here. The best thing about her recipe is that it's quick to assemble and ready for you in the morning-no cooking required! What could be better than that, especially for so many of us who would like to have time for breakfast, but often feel we're too busy to do it. Try this and let us know what you think!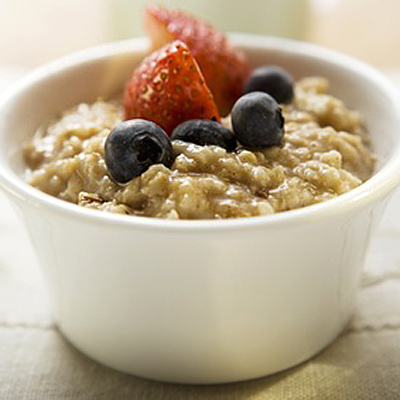 Overnight Oats
Basic Ingredients
1/3 cup uncooked rolled oats (not instant, not steel cut)
1/3 cup low-fat milk (dairy or non-dairy)
1/3 cup fat-free Greek yogurt
Possible Add-ins
½ cup fresh fruit – or –
½ cup pumpkin – or –
½ cup applesauce – or –
1 tbsp unsweetened dark chocolate cocoa
Directions: Mix uncooked oats, milk, and yogurt together in a bowl, cover with plastic wrap, and leave in the refrigerator overnight. The consistency will be soupy after this initial mixing.
Overnight, the oats will absorb the liquid from the milk and yogurt, and the mixture will expand and thicken. This absorption process, in essence, "cooks" the oats. In the morning, top the mixture with nutritious add-ins of your choice. The possibilities are endless for this high-protein, low-calorie, satisfying morning treat!
*Image courtesy of Google Images
Posted By: Structure House